Our aerial roof measurement reports are drafted by expert CAD technicians and reviewed by a quality assurance professional, certifying absolute data accuracy on every report. Precision is paramount at SkyRoofMeasure, and that's how we guarantee a 95% or better accuracy rate on every plane, eave, rake, ridge, hip and valley.
 
                                            Call Us +1 (940) 233-5566
Our aerial roof measurement reports are comprehensive, easy to use, and include all information you'll ever need. Be confident in your bids, and submit estimates that align to your bottom line.
What is aerial estimation?
Aerial Estimation is the most complete source for all your Satellite Roof Measurements. We know what contractors want. 
Roof Measurements including Area
, Rakes, Ridges, Hips and Valleys, and every edge is separately measured and identified. Online access to your Roof Reports for your Employees, Subs and Suppliers with no software to install.
What are satellite roof measurements?
Satellite Roof Measurements: Features of a Roof Report Accurate Roof Pitch Measurements Roof Measurements including Area, Rakes, Ridges, Hips and Valleys, and every edge is separately measured and identified. CAD style drawings with colored lines identifying every type of roof edge.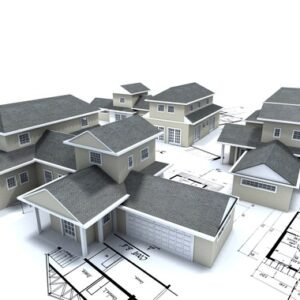 Eliminate Errors
Measuring a roof for shingles is an error-prone process that often results in miscalculations. Aerial measurement reports eliminate manual errors so you can be assured you have accurate numbers from the very start. Eliminate material shortages and overages once and for all, resulting in money savings for your roofing business.
Estimating your Roof Size: Please use this guide to estimate your actual roof area. Your garage and patio also need to be added to estimate the actual roof area. COMMONLY, your net roof area is about 25% greater than your living square footage.
Pitch (Slope) of Roof: This is the rise/run in feet. The larger the slope, the greater your actual roof area.
| | | |
| --- | --- | --- |
|  Pitch (slope) |  Roof Angle |  Area % Increase |
|  2/12 |    9.46  degrees |  1.02 |
|  3/12 |  14.04 |  1.04 |
|  4/12 |  18.43 |  1.06 |
|  5/12 |  22.62 |  1.08 |
|  6/12 |  26.57 |  1.12 |
|  7/12 |  30.26 |  1.16 |
|  8/12 |  33.69 |  1.20 |
|  9/12 |  36.87 |  1.25 |
|  10/12 |  39.81 |  1.30 |
|  11/12 |  42.51 |  1.36 |
|  12/12 |  45.00 |  1.42 |

Roofing Materials
The purpose of calculating the precise measurements of a roof is to ensure that the appropriate amount of roofing materials are ordered – whether you have a shingles roof, gable roof or metal roof. Here are some common roofing materials and considerations for each:
Shingles
Shingles are typically sold in bundles. Depending on the type and brand of shingle, it may take a different number of bundles to make a square. When cost comparing shingles, remember to base price on squares and not on bundles.
Metal Roofing
Metal roofing is typically sold by the sheet or panel. To determine the number of sheets or panels necessary to cover the roof, divide the width of the roof by the sheet or panel coverage width.
Other Roofing Materials
The basic square footage and length calculations detailed above should help estimate overall cost for other materials. Additional roofing materials that should be accounted for include items such as leak barrier, deck protection, drip edge, rake edge, ridge vents, and hip and ridge caps.