Getting accurate roof measurements can be difficult but with this roofing calculator, you'll be well prepared to take measurements of any roof. Whether you're a contractor looking to train a new employee or a homeowner looking to do some renovations, you'll find this guide helpful for any roofing project. Use the step-by-step guide below to accurately measure your roof and estimate roofing costs.
Call Us for Roof Measurements : (315) 926-1777 
OR  Email us : info@skyroofmeasure.com
Not a fan of drawing the roof yourself? You can order roof measurements from Sky Roof Measure and our  technicians will create the measurement diagram for you. Within hours, the completed project is uploaded into your Sky Roof Measure account. The sketch is a dynamic, fully editable drawing that you can customize with inspection photos and notes and use to create an estimate in Sky Roof Measure . Then, have your customers sign the contract right on your device. Check out our pricing page to see the value.
Our aerial roof measurement reports are drafted by expert CAD technicians and reviewed by a quality assurance professional, certifying absolute data accuracy on every report. Precision is paramount at Sky Roof Measure , and that's how we guarantee a 95% or better accuracy rate on every plane, eave, rake, ridge, hip and valley. Be confident in your bids, and submit estimates that align to your profit goals.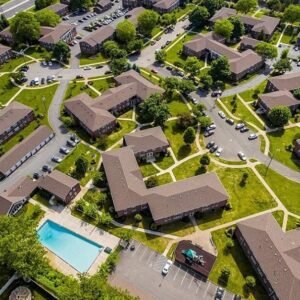 We are a remote roof measurement service that uses the latest aerial and satellite images to map and measure any roof anywhere. Rooftop Measurements utilizes state of the art measurement software and the latest aerial and satellite images to create quick and accurate roof measurement reports.
We include on-roof measurements, roof measurements or estimates that can be made from ground level, and several neat tricks using a folding ruler to measure roof angle or slope.
This article shows how simple measurements can give the roof area without having to walk on the roof surface. This article series gives clear examples just about every possible way to figure out any or all roof dimensions and measurements expressing the roof area, width, length, slope, rise, run, and unit rise in inches per foot.
Why Use Drones for Roof Measurements?
One of the main benefits of drones is their size and maneuverability.  This feature allows them to fly a few feet away from various building types and capture high-resolution imagery (sub-centimeter per pixel resolution) for residential, commercial, flat and metal roofs.