Measuring Steep Roofs
A-frame roofs and even gable roofs can be relatively steep. Measuring a very steep roof involves different computing techniques. To measure steep roofs, the roof length needs to be calculated first. Then external walls are computed plus the overhang for the length of the residence lateral to the ridge. After that, a cable is lobbed over the ridge to identify it on each eave of the steep roof. This allows you to tally the overall width dimension to use in estimating area. This is done on each roof section that has a horizontal ridge.
Ordering Measurements
The measurement ordering industry has exploded in the last decade, with many different providers offering similar products. While most measurement providers will give you accurate results, the critical consideration is making sure the ordering process fits into your sales workflow. Does your provider generally take 48 hours to return a measurement? That means your appointments will need to be planned well in advance if you'd like to have a proposal ready before the appointment.
We like to think that gives you or your sales team the flexibility to order measurements for same-day appointments. We believe the speed of turnaround is likely to be the prominent feature of measurement order services in the next decade.
When you've got too many roofing projects in the pipeline, it's time to start looking into measurement tools to help you take your business to the next level and save time without sacrificing accuracy in your measurement reports.
Sky Roof Measure is a roof measurement software created specifically to help your business grow by reducing your workload and saving you valuable time. Using a combination of HD satellite and aerial imagery from Nearmap, Eagleview, and Google Maps, Sky Roof Measure is not only able to accurately measure a roof but also determine pitch and line types in a single click.
This, in turn, allows you to generate a full roof report for any address you choose in a fraction of the time it would take you to head over to the home to gather the information you need to put together an estimate for your client.
Real Data in Real Time
Did you know that most aerial roof measurement services use imagery that may be up to 5 years old? When completing a bid or drafting construction plans, you need the most accurate and current information possible to provide your clients the best possible service. And if you don't have it, you can be sure the competition will. Put your company at a competitive advantage. When you can address aspects of the project that competing bidders can't, you are immediately more credible and reliable in the eyes of a potential client.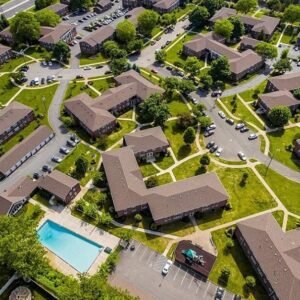 What's essential for ongoing business operations during winter is just as relevant during your peak season. Every on-roof moment multiplies costs and detracts from your bottom line. Remote inspection and measurement lowers the number of site visits and your exposure to travel or onsite risk. Remote prospecting with high-resolution aerial imagery concentrates your field resources around installations and efficiency, not inspections.