When you, a roofing contractor, need a roof measured, it is no longer necessary to drive across town. It is no longer necessary to work around anyone's schedule but your own. You don't even need a ladder. All you need is a qualified aerial roof measurement provider.
Get Your Accurate Roof Measurement Online, Quickly and Easily.
You already use Google Maps or Google Earth to find the client's location. That means you already are familiar with Sky roof Measure, the top roof measurement provider. Simply give us a street address, and less than a few hours and you'll have a complete, detailed report with the materials list in your email box.
Call us :  (315) 926 1777
Email: info@skyroofmeasure.com

Accurate and Efficient Aerial Roof Measurement
If you didn't have to drive from house to house, from business to business, in order to bid roofing jobs, how many bids could you submit in a day?
If you could measure roofs and prepare estimates from your desk at home in the evenings, how much more productive could you be during the day? Stop allowing your physical location to limit your company's growth.
Please read more to find out how satellite roof measurements can save you time and money.
Best Aerial Roof Measurement Service Provider
Sky Roof Measure has set itself apart and above the other aerial roof measurement companies in a number of areas.
● Accuracy and Flexibility
● Quick Turn-Around
● Customer Service
● Nationwide Coverage
● Price
Any three of those reasons would be a reason to learn more about a company. In our experience, in this crowded marketplace, Sky Roof Measure is clearly the best provider of satellite roof measurements.
Satellite and Aerial Images for Roof Measurements.
If you're still measuring roofs the way you did in 1945, you need to modernize. No longer do you need to physically visit a property before preparing an initial estimate.
Roofing Contractors, Insurance Claims Adjusters
Think how much more productive you could be if you didn't have to drive all over the county to measure roofs. Think about how much time you could reclaim and how much money you could save. There is no reason you can't desk measure most roofs.
Roofing contractors are using aerial imagery to measure roofs because it allows them to quote more jobs. More quotes mean more jobs.
Catastrophic insurance claims adjusters, too, find remote measurement and desk adjusting a way to energize their business. Closing more claims quickly and accurately is key to a successful operation.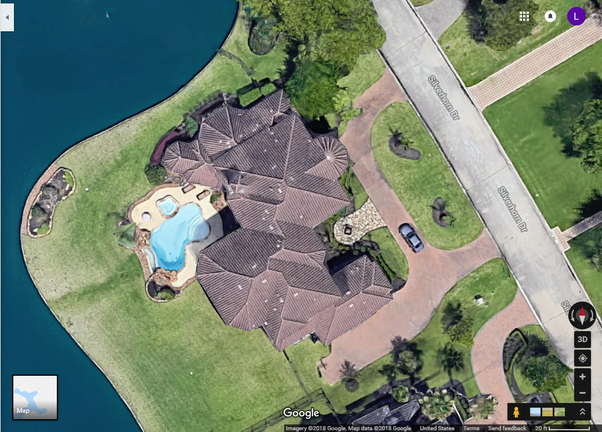 If you're looking to modernize your roofing company, making it more efficient and more profitable, check out our Sky Roof Measure. We produce a detailed roofing report in a couple of days that looks amazing and can really help bring a client to contract. The cost? Most roofs cost between $30 and $70. 
Measuring roofs by satellite is a reality. It saves time and money and the accuracy is surprisingly good.
Measuring Roofs by Satellite
The same satellite technology that allows your GPS to help you find your potential client's house is the same technology that will allow you to measure his roof without leaving your office. Satellite mapping is simply that good. You'll still have to visit the property to collect pitches but you won't have to climb a ladder in most cases.
Save Time, Money and Bid More Roofing Jobs
It takes time and money to send an estimator out to a client's house or business. Much of the estimator's time is wasted driving from location to location. By measuring remotely using satellite images, you can bid more jobs. The more jobs you bid, the more work you get and the more money you make.
Accuracy in Aerial Roof Measurements
With dimensions from a satellite image and accurate pitches, you're not going to be off by even a square of shingles on a typical roof. With what you save in not sending an estimator and a ladder to every job, you'll easily be able to eat any material overages, land more jobs, and net more money.
It really is that simple.
How Aerial Mapping of Roofs Work for Your Company
For most already using the technology, it works something like this…
Make contact with a client who needs a roof.
Using satellite measurement technology, come up with a materials list and cost estimate.
Gauge customer's true interest in a roof.
Meet at the customer's location, make any needed adjustments to the satellite drawing.
Sign a contract to perform the work.
As you can see, the roofing contractor has cut out the initial visit to the client site. On the contractor's first visit to the site, and accurate document made by the Sky Roof Measure is already in hand. Imagine how much more professional a bidder will look if he shows up that prepared
at the first meeting.
Measure Roofs From Your Desk, Winter or Summer
You can measure a roof using aerial or satellite images today. Best of all, someone else does all the work. All you do is supply an address and we will measure the roof and provide a complete materials list in a matter of a few hours.
Remote Aerial Roof Measurement is Here Today
It's true that the nail gun didn't replace the hammer. That said, no professional is going to attempt to put on a roof without an air compressor nearby. The same can be said for measuring roofs from your desk… it'll never replace a measuring tape completely but it sure
gives you a head start. Please, take a moment to learn how Sky Roof Measure can improve your bottom line while keeping you off unprofitable roofs. Aerial roof measurements are here. Now is the time to save time, money, and allow your business to run at a much higher profit margin.