Getting accurate roof measurements can be difficult but with this roofing calculator, you'll be well prepared to take measurements of any roof. Whether you're a contractor looking to train a new employee or a homeowner looking to do some renovations, you'll find this guide helpful for any roofing project. Use the step-by-step guide below to accurately measure your roof and estimate roofing costs.
How to measure your roof area from the ground
A more accurate way to calculate the area of the roof than using Google Earth is to get outside to estimate the roof pitch and the base area of the property. Using these two figures, we can get a good idea of the shingle roof's square footage and estimate your asphalt shingles' needs and costs. This DIY technique can be helpful, especially if you are not comfortable getting on your roof, or if you have limited access to it.
Ground measures only work well for a gabled roof, since there are usually just two main rectangular pitches to calculate area for. For more complex roof shapes, like hip roofs, you'll need to work with a roofer or measure from on top of the roof itself to calculate its total area.
HIRING A PROFESSIONAL SERVICE
There are a number of local services in every community that will measure your roof and give you an accurate coverage area. This is the easiest solution to finding out your roof's dimensions. Often, roofing professionals will offer this service as a part of their installation costs, or even sometimes for free.
ROOF SAFETY & AWARENESS
If you're thinking about measuring your roof yourself, please take caution as falling from roofs is a regular injury. Be sure to wear proper safety equipment, and if possible, have someone else there to assist you. Take extra precaution as you move up or down from the roof itself.
Estimate The Amount of Shingles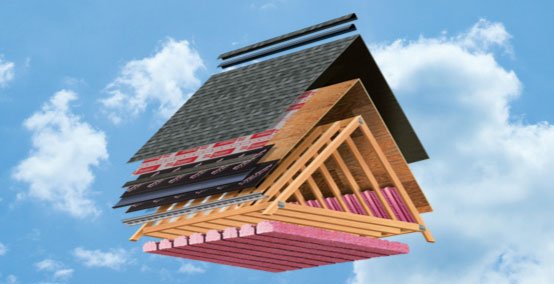 To estimate how many shingles you'll need, first estimate the total square footage of your roof's surface. To do this, measure the length and width of each plane on the roof, including dormers. Then, multiply length x width to get the square footage of each plane. Finally, calculate your roof's total square footage by simply adding the square footage of each of the planes together.
For example, this shed roof has one roof plane. Simply measure length (A) x width (B): A x B = 120′ x 100′ = 12,000 sq. ft. for the total square footage of the roof.
This gable roof has two planes. So, multiply length (A) x width (B) to get the square footage for each plane. Then, add the two planes together to derive the total square footage of the roof:
Plane 1: 120′ x 100′ = 12,000 sq. ft.
Plane 2: 120′ x 100′ = 12,000 sq. ft.
Plane 1 + Plane 2 = 24,000 sq. ft. for the total square footage of the roof.
Roof surfaces are measured in "squares." A square is an area of roof which measures 100 square feet. To determine the number of squares on the gable roof above, simply divide its total of 24,000 square feet by 100. The result is 240, and this means you would need 240 squares of shingles to cover that roof. The most common type of shingle, called a three-tab or strip shingle, is generally packaged three bundles per square.
For a new roof, you will also need the same amount of underlayment. So, in the gable roof example above, you would need 240 squares of underlayment. Underlayment usually comes in rolls of 4 squares each. So, covering 240 squares would require 60 rolls of underlayment. No underlayment is needed if you are applying shingles directly over an existing asphalt roof.
Be sure to add 10% to all of your material totals for trim allowance.
Finally, if you have any questions about your estimate, ask a roofing contractor in your area. Most will be happy to give you a free estimate. For a listing of roofing contractors in your area, use our Find a Roofing Professional locator tool.