A drone is a great tool for assessing roof leaks as it enables you to see hard to reach places and take photographs to show to a builder. An insurance Loss Adjuster will also find drone roof inspection photographs very useful. … The cost of a drone roof inspection is usually considerably cheaper than other methods.
Why do a roof inspection With a Drone ?
To estimate roof repair costs
For professional roof repair services, having to physically climb up a roof is not a problem. However, the risk and effort might not be worth it if they are still in the phase of negotiating prices with the clients. For them to provide an accurate estimate of the costs of roof repair, a roof inspection will be in order. In the hands of a good drone pilot, a camera drone can be used to craft a highly detailed roof inspection report – something that could certainly impress more than a few potential clients.
SAFETY
The fact that drones enable an individual to perform a roof inspection while remaining safely on the ground may be the single greatest advantage of their use. More than 300 people die each year in the United States falling from ladders, and over 150k ladder-related injuries are treated in the emergency room. The use of drones all but eliminates this risk entirely.

                                       Please Call Us – (315) 926 – 1777
 To confirm insurance claims
When a natural disaster happens, like a tornado or a typhoon, the roof of a home takes the brunt of the punishment. For this reason, homeowners will typically make insurance claims on the roof damage. When this happens, it is up to insurance adjusters to physically visit these homes, assess the damage, and determine a fair insurance claim.
Of course, in such an event, there will probably be multiple homeowners making the same insurance claims. It would be simply impractical for an insurance adjuster to spend the time climbing up each house. With a drone, the inspection of several houses can be done in a single day. Not only do drones make the job safer, but also much more efficient.
EFFICIENCY
Industry studies show utilizing UAVs for inspecting a roof can cut the inspection time down [on average] from three hours to one. For a roofing estimator or an insurance adjuster, this can prove invaluable allowing them to inspect far more properties in a single day with a higher degree of accuracy.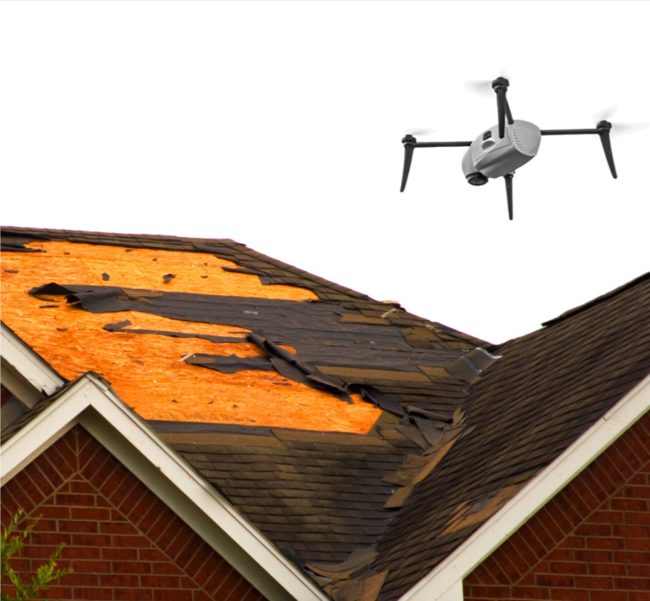 MANPOWER
Compared to a team of people with ropes and tape measures, generally a single individual is required to inspect a roof. For larger commercial properties a drone pilot may bring along additional VOs (visual observers) to aid in maintaining LOS (line of sight) during the data collection process. Even in this instance, a two-man crew would be completely done before a traditional team even accessed the roof.
Can any drone be used for roof inspections?
The simple answer is no. While there are many great drones, some are better suited for this type of work. In this article, we will highlight the best options for drone roof inspection.
How long does inspection take?
The speed of a drone inspection, from start to finish is amazing and infinitely faster than a manual inspection. Once the basic preparation is done, the inspection can take from 5 to 20 minutes depending on the degree of detail required and the size of the roof.