Satellite Roof Measurement are measurements taken from an aerial view of your home. The measurements are then calculated with software. You can actually do this on google maps with the aerial view of the house. There is even a measuring tool that can tell you how many feet by how many feet the roof is. Follow Us for more details Please. 
Call Us for Roof Measurements : (315) 926-1777 
OR  Email us : info@skyroofmeasure.com
Get your satellite roof measurements now in just a few clicks and save thousands on your next roofing project by using the Uber of roofing! Sky Roof Measure cuts out the middleman and saves you up to 35% on a new roof by linking you directly to high-quality craftsmen and materials WITHOUT paying a construction company to do it for you.
Satellite Roof Measurements: Features of a Roof Report Accurate Roof Pitch Measurements Roof Measurements including Area, Rakes, Ridges, Hips and Valleys, and every edge is separately measured and identified. CAD style drawings with colored lines identifying every type of roof edge.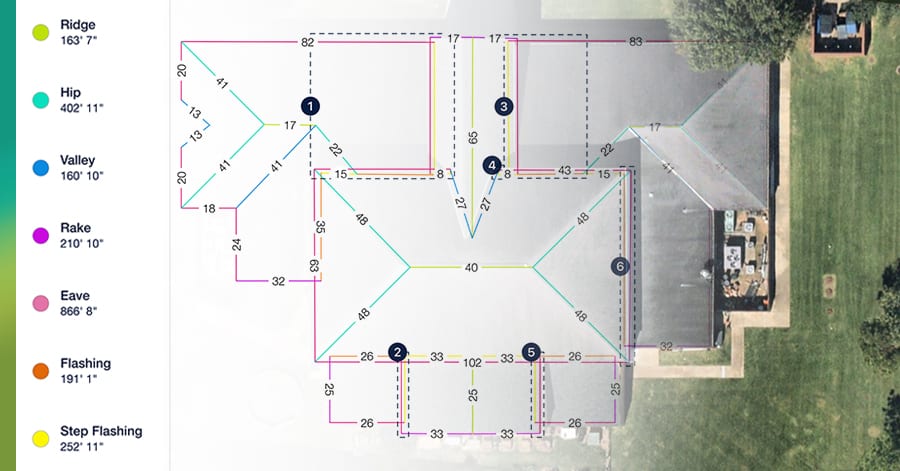 What to look for in an aerial roof measurement report?
Our aerial roof measurement reports are comprehensive, easy to use, and include all information you'll ever need. Be confident in your bids, and submit estimates that align to your bottom line.
Prepare roof measurements and professional estimates from anywhere. Print email and share digital reports with property owners or with your team. Eliminate unnecessary trips to the job site. Spend less time on roofs and more time with customers face-to-face. Impress clients with new roof simulations, roof diagrams and other visuals.
Save Money
It's YOUR time, and time is MONEY. Have the advantage of seeing more prospective clients. SAVE TIME by not having to measure or diagram their roof…. Sky Roof Measure can help you become highly efficient; saving you time by acquiring detailed satellite images and converting them to data.
Our drawings and reports include items such as perimeter, drip edge, flashing, valleys, ridges, multiple slope areas, pitch, linear measurements, total squares, recommended waste, etc.
Save Time
Time is money. Why waste it on driving to measure a roof? With Sky Roof Measure , you can instantly capture all the necessary data to close the sale and begin production. Your time is valuable, and we can help you maximize your efforts by allowing you to spend more time on your sales presentation and less time measuring.
With our state-of-the-art technology, you can outperform your competition by simply freeing up time to see more customers. More prospects mean more sales.
Attain professional, colorful, and accurate data for your estimates that will place you in a league of your own. Estimates can be quickly produced regardless of weather, location, distance or circumstances that might ordinarily slow you down.